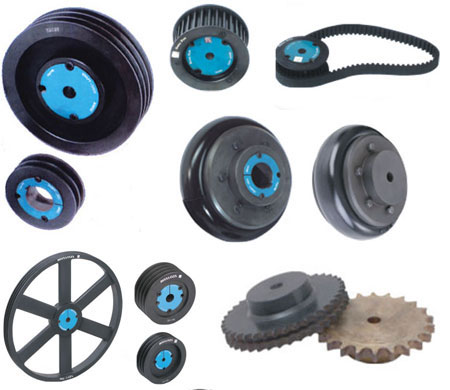 Chain Couplings
Our firm is with qualitative collection if chain couplings which is of various sizes and shapes. All the products are manufactures with eminent industrial standards. We mostly think upon our customer satisfaction and manufacture the couplings as per our customer needs
Tyre Couplings
Our organization is engaged in thinking upon our customer satisfaction. We manufacture wide range of tyre couplings that is mainly used in mechanical power transmission. We efficiently concentrate upon compensates angular, parallel or combination angular and shaft-end float. We provide additional services in extensive bearing loads and shaft stress for prominent working. We always use rubber tyre that avoids metal to metal contact.
Nylon Gear Couplings
Nylon Gear Couplings are offered by our firm to our clients. Our nylon gear couplings have different finish bore to the higher standard domain. Our coupling has the best quality in various range of sizes and designs that suits the customer needs.
Gear Couplings
Gear Coupling is manufactured with latest art machines and modernized technologies. Gear couplings are with mechanical flexibility with numerous misalignments of connected shafts without any loss of transmission of power at great demand.
Pin Bush Couplings
We are made up with high grade materials like alloy steel, cast steel and other cast iron. We have the superior quality flexible blush pin couplings. This equipment is used to transmit high tensile steel bolts. Our products have high lasting performances, optimum efficiency and exceptional shock and high tend absorbing capacity.
Encoder Coupling
We are one of the most reputed firms involved in offering a comprehensive range of Encoder Couplings. These couplings transmit torque from one shaft to other shafts and appreciated for its attributes like durable and easy to install.
Jaw Couplings
>> Simple construction-quick easy installation- Nospecial tools required.
>> Flexible insert caters for incidental angular, parallel and axial misalignment.
>> Absorbs shock loads and damps small amplitude vibration.
>> Insert design presets correct distance between hubs, using raised pads on each leg of insert.
>> Available in a range of stock bore sizes. Can also be supplied with finished bore & keyway.
>> Unaffected by moisture, grease and oils-including non-aromatic and non-ketones solvents and temperatures within the range-40C to 100C.
>> Spacer coupling with spacer size depending upon the distance between two shaft ends (DBSE).
Timming Pulleys
We provide an exclusive array of timing pulleys in compliance with international quality standard. Timing pulleys are offered with Gates Power grip timing belts that are constructed with gear like teeth , to engage with matching grooved in the pulleys.
Features :-
>> High mechanical efficiency.
>> No maintenance no lubrication requirement.
>> Reduce belt tention, and longer drive bearing life.
>> Space saving through smaller size pulley.